The Self in Dynamic Systems
2022 July 3 - July 8
Register now
Since 2008, international groups from four continents have met each year for a Logosynthesis Summer Conference It's the most dynamic event you can imagine to learn to know more about Logosynthesis, this new, effective and elegant model of guided change.
We will offer a 6-day learning event for professionals on all levels of training in Logosynthesis.
Logosynthesis is not a one-way street, not a finished, coherent system. Like all new developments it has come from trial and error. Now, after 15 years, we have the life energy octagon as the base of the Path seminars of the Practitioner curriculum, and we have the field model as the core of the Master Practitioner curriculum. Both models are now accompanied by a series of understandable and applicable protocols and techniques. If you look at those models it almost seems as if Logosynthesis emerged in the form of the smooth narrative presented in these two models, and as if it has always been like that.
In a time in which Logosynthesis' founder is slowly stepping back, the Summer Conference becomes an international stage for a new generation of Practitioners, Master Practitioners, Instructors, Supervisors and Trainers.
The Self in Dynamic Systems
---
The purpose of this online conference is to inspire you to think out of the box that has become Logosynthesis. In sharing these pieces we want to show you that nothing comes easy, that you need trial and error on the path of your Self. Therefore we have created a space for you.
Summer conference
The Concept
We present different aspects of dynamics in your Self, in patterns, in groups and guided change. Based on our experience in our training and previous conferences, we have adapted the structure and the content, fine-tuned to the specific training needs of professionals learning Logosynthesis on many levels.
For those training as Logosynthesis Practitioners, participation will count as Logosynthesis Live. For those training as LIA Master Practitioners, participation will count as one of three required Master Classes. Trainers-in-training who already participated in a four-day event can raise their competence and experience on their own level, as co-trainers in the working groups.
---
The Staff
This conference will be directed by Mary O'Donoghue. Mary will lead the staff meetings and the plenary sessions. She will cooperate with other experienced professionals, who will will have a role in the guidance of the working groups and the presentation of theory and methods. Mary will work together with four experienced Trainers in Logosynthesis.
This year's conference staff consists of Suzanne von Blumenthal,  Astrid Klein Lankhorst, Fabio Pierotti, Christin Aannerud, Patrizia Luise and Shanda Woodin.
The members of the staff bring many years of experience in the field of psychology, psychiatry, psychotherapy, coaching and organisational development. All of them are experienced professionals, supervisors, and Master Practitioners in Logosynthesis
The Schedule
The conference lasts from Tuesday, July 3 to July 8. It will be onsite in Filzbach/Glarus, Switzerland
Sunday to Friday
Each of these days will start with presentations and discussions on subjects related to the theme of the conference.
After tea break, the practice groups will meet for an hour. In these sessions they will work in the same format used in other seminars of our Logosynthesis training program. After a short break, a working group session follows in the presence of one or two staff members, in which the attendees get the opportunity to work on individual issues.
The last half hour is a closing the day session with answering questions and sharing experiences and insights.
You'll find an overview of the time & task structure of the conference here.
Space and Time structure
We create a safe environment for learning through a clear space and time structure. So we expect all participants to be present all time.
Group Size and Language
The conference will take place with at least 20 registered participants.
The conference language is English. For German participants we will organize translation.
The Costs
The conference fee is €990 . Last registration until June 6 2022eg
The Venue
 The conference will take place in seminar hotel in Filzbach, Switzerland. This venue  is 1.5  hours by train from Zurich Airport.
Seminarhotel Lihn
The hotel offers a very smart and scenary place to learn and meet in our international group. We will have all rooms reserved for our Logosynthesis Summer conference.
We will meet in a big seminar room. There will be other nice sites for working and practice groups.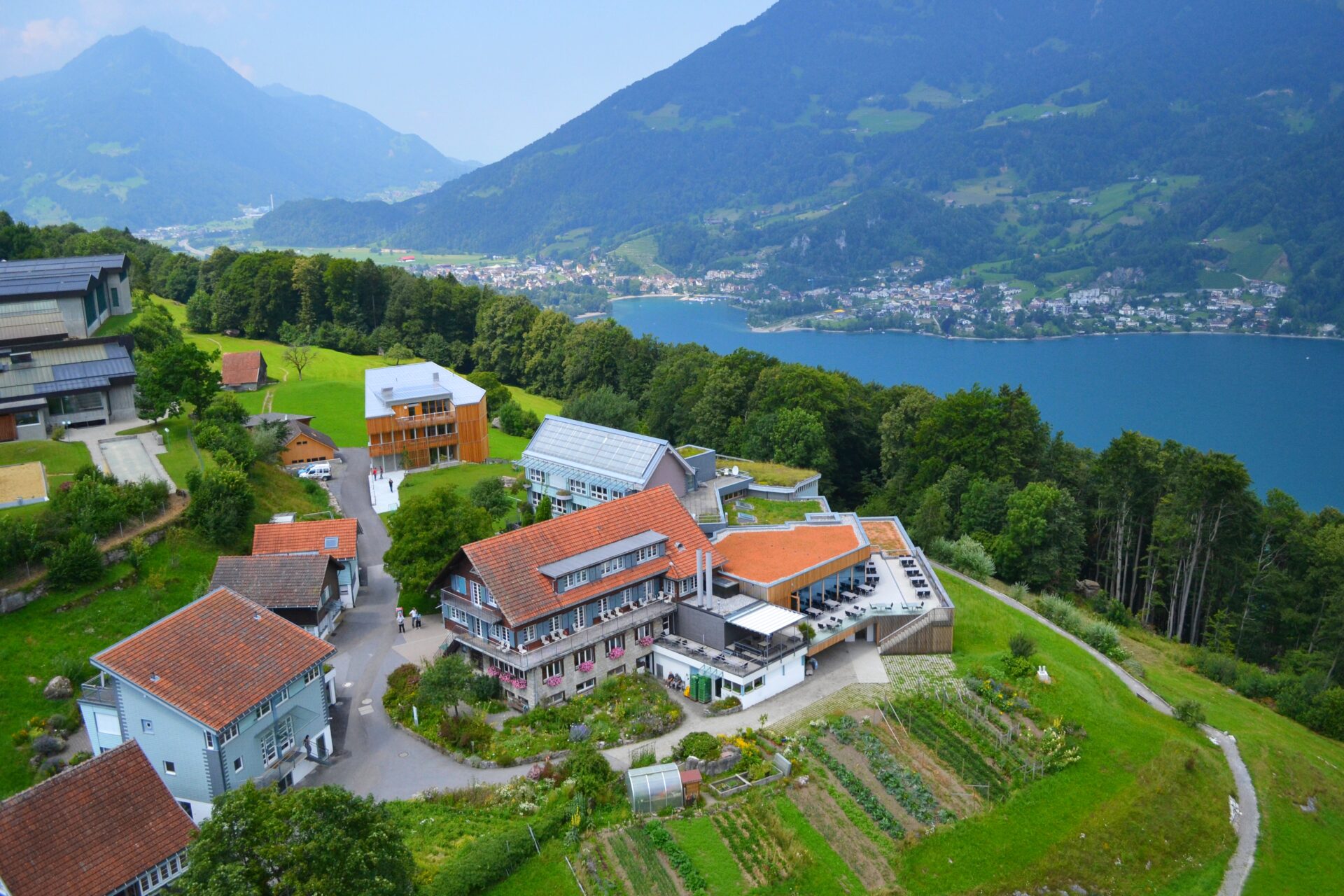 Prices and conditions for room and board
The hotel has single as well as double rooms. Single rooms will cost around € 875  for your room and full board, including coffee and tea breaks, as well as the use of the seminar infrastructure. You can also share a room with another conference attendee, double rooms are around € 575. Additional tourist tax €2 per person and day. Please reserve your room directly with the hotel management.
However, if you want to arrive before Sunday, June 27, or if you want to stay after Friday, July 2, please contact Hotel Lihn. [email protected]
Travel
The nearest international airport is Zurich. Then take a train from the airport to Zurich main station or directly to Ziegelbrücke, from Ziegelbrücke by bus to Filzbach. More about the trains: www.sbb.ch
Your Registration for the Summer Conference 2022
You can register by using the red button "Register Now"  below.
If you have already registered fill in your mail adress and continue. You do not need a IfL number. Then choose Summer conference 2022. The registration is done, when you click the green button after payment.
You pay by credit card directly in the registration process or by bank transfer later. 
After your registration and payment your participation will be confirmed and your seat is reserved.
If you register for the first time, fill in your mail adress. Then you will directed to give your name and first name and adress, and save. Then you can choose the seminar by clicking the blue button "register".
If you have any difficulties with registration, please contact me:  [email protected]
Register Now !